Community Leaders Training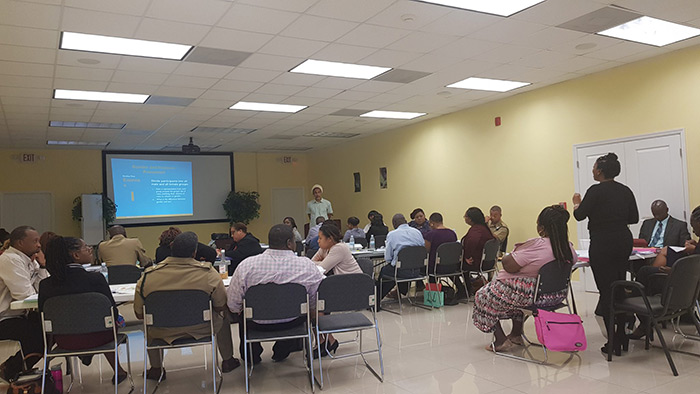 The CSJP offers community leaders the opportunity to get involved in the business of getting othersinvolved in violence prevention. Interested leaders may receive training in any of the four modules of CSJP'sCrime and Violence Prevention Programme: Conflict Resolution and Mediation; Parenting; Sexual Assault Prevention and Gender-based Violence. Trained leaders become certified CSJP curriculum facilitators who are responsible for teaching the curriculum toyoung people and other community residents.
For Mr Eugene Poitier, Acting Permanent Secretary, Ministry of National Security, CSJP-trained leadersare members of a fraternity that will change The Bahamas.
Said PS Poitier at a graduation ceremony for trainers:"You are a group of some of the most involved Bahamians who have crossed that threshold from being taught to now being more involved. Yes, you are involved on the ground supporting families, involved in the communities talking to people, and most importantly, you're involved in the business of getting others to become involved. You are change agents and agents for a brighter future, a brighter Bahamas. And for that you should be saluted."
The CSJP invites you to get involved today! Contact us and discover how you can help residents of your community combat nine forms of violence—physical, sexual, emotional, psychological, cultural, spiritual, financial abuse, verbal abuse and neglect.Discover ways to help your community members deal with the daily pressures of conflicts, stress and family life.